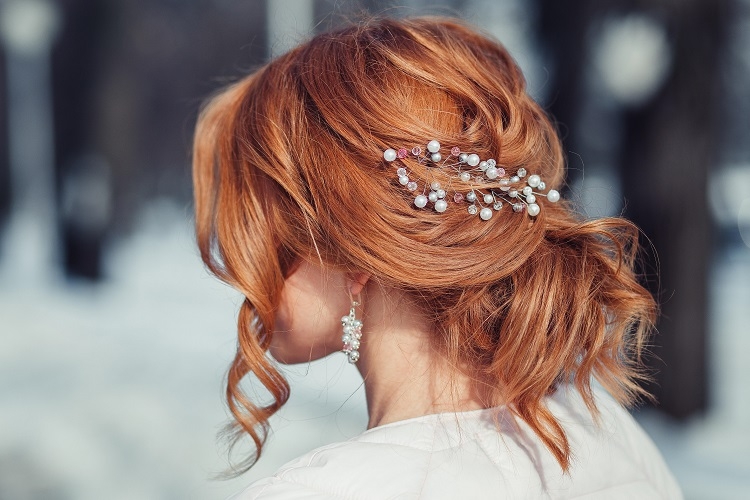 Hair accessories are back, and they're bigger, better and more beautiful than ever.
Whether we're talking about colourful, playful clips or Blair Waldorf-esque bows, barrettes are no longer confined to the annals of '90s hairdo history; stylists, celebrities and influencers have all helped bring these childhood favourites to the forefront of fashion once again. Now they're poised to give a whole new generation of buns and ponytails a makeover!
Barrette looks range from minimalist to elaborate; straightforward to sumptuous, and we'll show how you can rock them all. Here are just some of the ways to pull off the style and really get the best out of your barrette.
Scale Down What You See on The Runway
We all love how trends look on the runway, worn by models at the top of their game. But the fact is, what we see doesn't usually provide a realistic representation of how those pieces will come off IRL. Case in point, the wildest hair moments at the 2019 Met Gala are highly unlikely to be spotted when you're doing the weekly shop. The good news is that you'll be able to dilute when working towards your hair goals; if the runway look shows 20 hair clips, just use one or two. By the same token, if the catwalk loves an oversized bow, be sure to choose something in a less dramatic proportion.
Choose Clips That Suit Your Hair Texture and Volume
Working with straight hair? That's perfect! '90s styling should be at the top of your mind, meaning the barrette can really come into its own. If your hair's curly, you must make sure to always use high-quality accessories that won't snag or get caught. On another note: fine hair is more vulnerable to damage than thicker hair, which isn't ideal if you're trying to incorporate clips into your style – but certainly not a major issue. And when it comes to lift, learning how to add volume and texture to fine hair couldn't be simpler; that's only if you feel it's in need of some extra oomph, of course.
Keep the Styling Simple
Try not to do too much styling with your hair whilst you're adding accessories, especially barrettes; half the fun is that they do the legwork for you. Barrettes look best when they are the star and the rest of the hair is subdued. Letting your hair accessories work their magic without any additional help is just one of many simple ways to transform your hairstyle for the better.
Stick to A Theme or Palette (When Wearing Multiple Accessories)
Opting for the same piece is a great way to use multiple clips; think about alternating between small and medium sizes and placing them on one side only back-to-back (close together so it almost looks like one larger accessory), or on opposite sides if you're feeling fancy.
Take a time warp back to the '90s and centre-part your hair, then clip both sides mid-way between the ear and the forehead for the heart of this amazing look. What we're saying is, barrettes are one thing; knowing how to pull them off – aka make them look cool – quite another.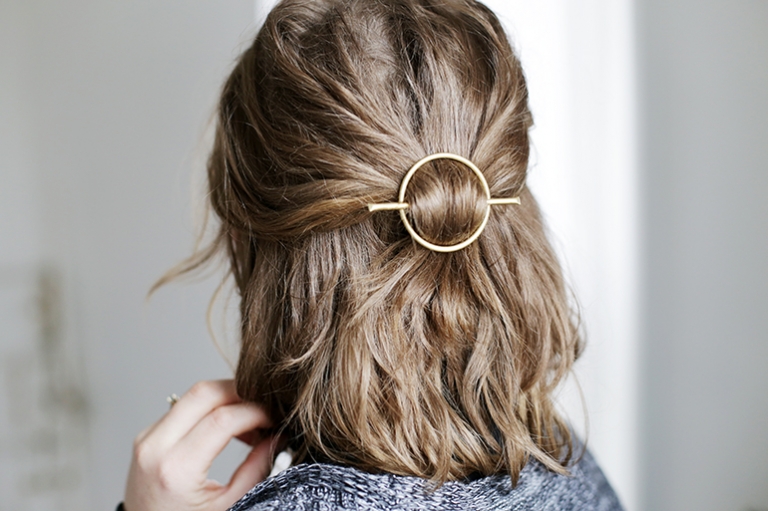 Ways to Wear Your Barrette
The beauty of the barrette is as much in its versatility as in its allure. There are many different ways to make a barrette work; you might want to experiment with a few, or find your fav and stick with it. Whatever you choose to do, it's always best to have fun, which is why you should take a look at our barrette picks so you can add the right flair to your hair:
Ring Braids: Practical? Yes. Easy to do? Totally. You should definitely try this interesting style out. Begin by creating a classic three-strand braid, splitting your hair into three even sections. As you work your way down the hair, slide a single gold ring around one of the three sections and continue the braid to lock it in place. Secure the plait and repeat the process for a seamless bejewelled look.
Stacked Clips: For this, you'll need to throw your hair up into the messiest twist you can possibly manage. Once all your hair is incorporated, stack two barrettes – like an equal sign – over the twist to hold it in place. You should also coat your entire head with a light-hold hair spray; this will nourish and protect your hair from damage caused during the twisting process, as well as keeping everything neat and fresh up there.
Bungee Buns: Perfect for going from post-gym to office (or date-night) appropriate. Gather all your hair into a low bun and secure with an elastic – then, once you have the bun how you like it, wrap the bungee cord around the base and push the knot slightly off-centre. Finally, pull out the hair at the crown to give subtle, never over-the-top-looking, volume.
Floating Pearls: Ethereal, unexpected, and entirely feminine: the floating pearls look is all these things – and so much more. Start by using a high-shine hair spray, from root to end, before placing the pearl pins. Try not to put them in any specific pattern or order; the more sporadic, the better. For a floating effect, make sure you can't see the bases of the pins. If any metal shows, hide it under a section of hair (before locking in with spray).
Woven Rings: With this style, clipping, pinning, or sliding your accessories into place are things of the past. First, take a section of hair above your ear and weave it through two gold hoops. Then insert a bobby pin into the hair and hoop to keep both secure. Next, you should bring that section around to the back and meet another from the opposite side. Tie them together with a clear elastic to complete your look.
Ribbon Wraps: A quick trip to your nearest fabric shop and knowing how to tie a simple knot are all you need to master this style. Seriously. After lightly teasing your hair with a comb to build volume, drape ribbons of varying thickness over the top of your head and bring the ends around to the nape, before tying in a knot. Behind your ears, slip some bobby pins across the ribbons to hold them there and finish with a lightweight shine spray. See? Easy-peasy.